https://www.newsbtc.com/xrp-news/xrp-price-historical-data-suggests-substantial-q4-rally-possible/
XRP price might have struggled to leave the $0.50 range over the last several months, even despite a victory in Ripple's case with the SEC. 
But all that could change in Q4 2023, as the fourth quarter of the year is historically the most bullish for the altcoin.  With this in mind, let's dig into the data and see how Q4 stacks up against the historical performance of other quarters of the year. Plus, we'll pin-point precisely which month is by far the most bullish of them all. 
Q4 Performance Is The Best Historically For XRP Price
XRP price at the moment is trading at around $0.51 after a fierce rejection following Ripple's big win in the case against the SEC. The altcoin was promptly relisted on top cryptocurrency exchanges, but it hasn't led to the demand necessary to sustain higher prices. 
But that could change soon, now that Q3 is over and Q4 is here. The cryptocurrency is coming out of its worst quarter on average, so lack of performance isn't too surprising. Q4, however, according to historical averages in performance across all quarters, is by far the most substantial. 
Q4 on average has provided an average of 30% ROI. Right behind it is Q2, posting roughly 22% ROI. Q1 averages a modest 13%, while Q3 comes in last with only 6% on average. There's no guarantee this data will translate into returns during this last quarter of the year, but seasonality and serial correlation are common in finance and cryptocurrencies. 
Why It Could Take Til December For The Bull Run To Begin
Unfortunately, October isn't the beginning of a massive bull run the previous text makes it sound. While the data doesn't lie — XRP price performs the best historically in Q4 on average, but Q4 represents October through the end of December. 
On a month-by-month basis, October is actually the third worst month on average. If the same positive seasonality in XRP were to follow along the data's projections accurately, then it would also suggest that October might be another month of pain and sideways for investors.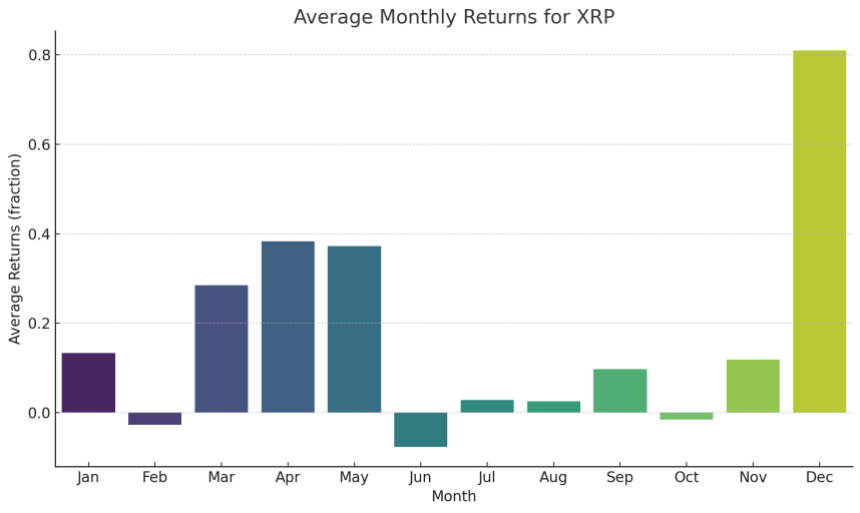 At an almost 12% gain in November on average compared to October's 1.5% average decline, the second to last month of the year will turn things green. But even November isn't quite the relief XRP holders would hope for.
That doesn't arrive until December, which is by far and away the best month on average for XRP, with an 80% ROI on average. The one caveat, is that the majority of the returns occurred during the 2017 bull market, potentially skewing the results. Removing the outlier from the data would almost certainly change the results significantly.