https://www.fxstreet.com/cryptocurrencies/news/breaking-binance-ceo-changpeng-zhao-discredits-rumors-of-interpol-red-notice-citing-photoshop-202304032252
Share:
Binance CEO has quelled rumors of a Red Notice filed against him by Interpol.
Cobie, a well-followed account in the crypto Twitter community, pedaled the rumor.
The speculation triggered a slump of over 3% in BNB price and around 1% for BTC price.
Binance CEO Changpeng Zhao (CZ) has come forward to dismiss rumors about a Red Notice issued against him by Interpol.
An encrypted message from Twitter user Cobie read, "Interpol Red Notice for CZ." Cobie is a renowned Twitter user with a massive following, which explains the loud chatter around the post. The message was tweeted in a sequence of letters and numbers encrypted using the SHA-256 hash function, the same cryptography that secures many cryptocurrencies, including Bitcoin.
An excerpt from the Interpol website describes a Red Notice as "A request to law enforcement worldwide to locate and provisionally arrest a person pending extradition, surrender, or similar legal action." The site also specifies, "The individuals are wanted by the requesting member country or international tribunal."
Read: Four issues Binance CEO notes in his open address to the CFTC complaint
The rumor comes days after the Commodity Futures Trading Commission (CFTC) sued Binance and its CEO over alleged federal law violations. The lawsuit provoked fears of an impending US Department of Justice (DOJ) lawsuit among other criminal charges.
CZ had made efforts to calm the community, penning an official letter to clear his name and that of the largest crypto exchange by trading volume. In the letter, the Binance executive addressed technology for compliance and US blocks, cooperation, and transparency with law enforcement, trading, and registrations and licenses, before closing with a no-bias assertion that "I strictly observe these policies."
Binance Coin (BNB) suffers rumor-infused FUD
The news of the alleged Red Notice affected Binance Coin price (BNB), causing a 3% decline in market value. At the time of writing, the altcoin is down almost 2% in the last 24 hours with a 55% increase in 24-hour trading volume as chatter around the digital asset continues.

Bitcoin price (BTC) was also affected by the FUD around the Red Notice, causing a 1% drop to $27,770. Notably, CZ addressed the rumors at around 21:51 UTC on April 3 and passed an investor tip to community members shortly after, warning them against panic selling on every whim of FUD.
CZ has asked community members to unfollow and block Cobie. 
A comparison of the one-hour and the 24-hour timeframes showed that both BNB and BTC had reacted to CZ's reply.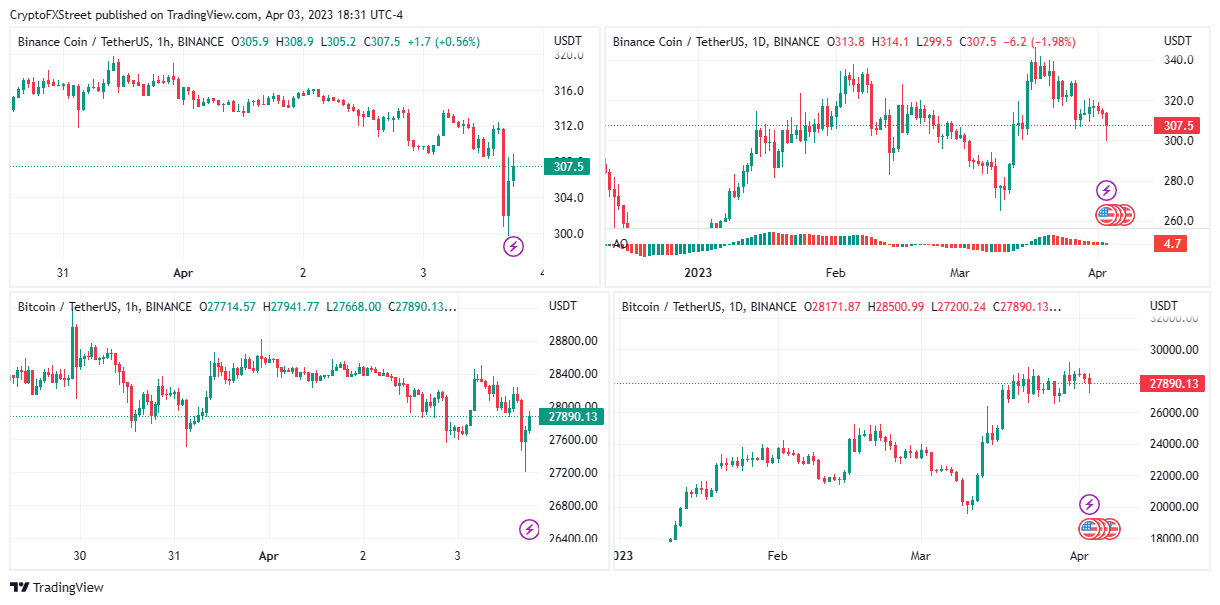 BNB/USDT 1-hour chart, BNB/USDT 1-day chart, BTC/USDT 1-hour chart, BTC/USDT 1-day chart